THE HOLIDAY POP-UPS ON THE 9INE
Greater Chatham Initiative
presents
The Holiday Pop-Ups on the 9ine
Come for
ART, GIFTS, CLOTHING, FOOD AND FUN!
Support Local Black Entrepreneurs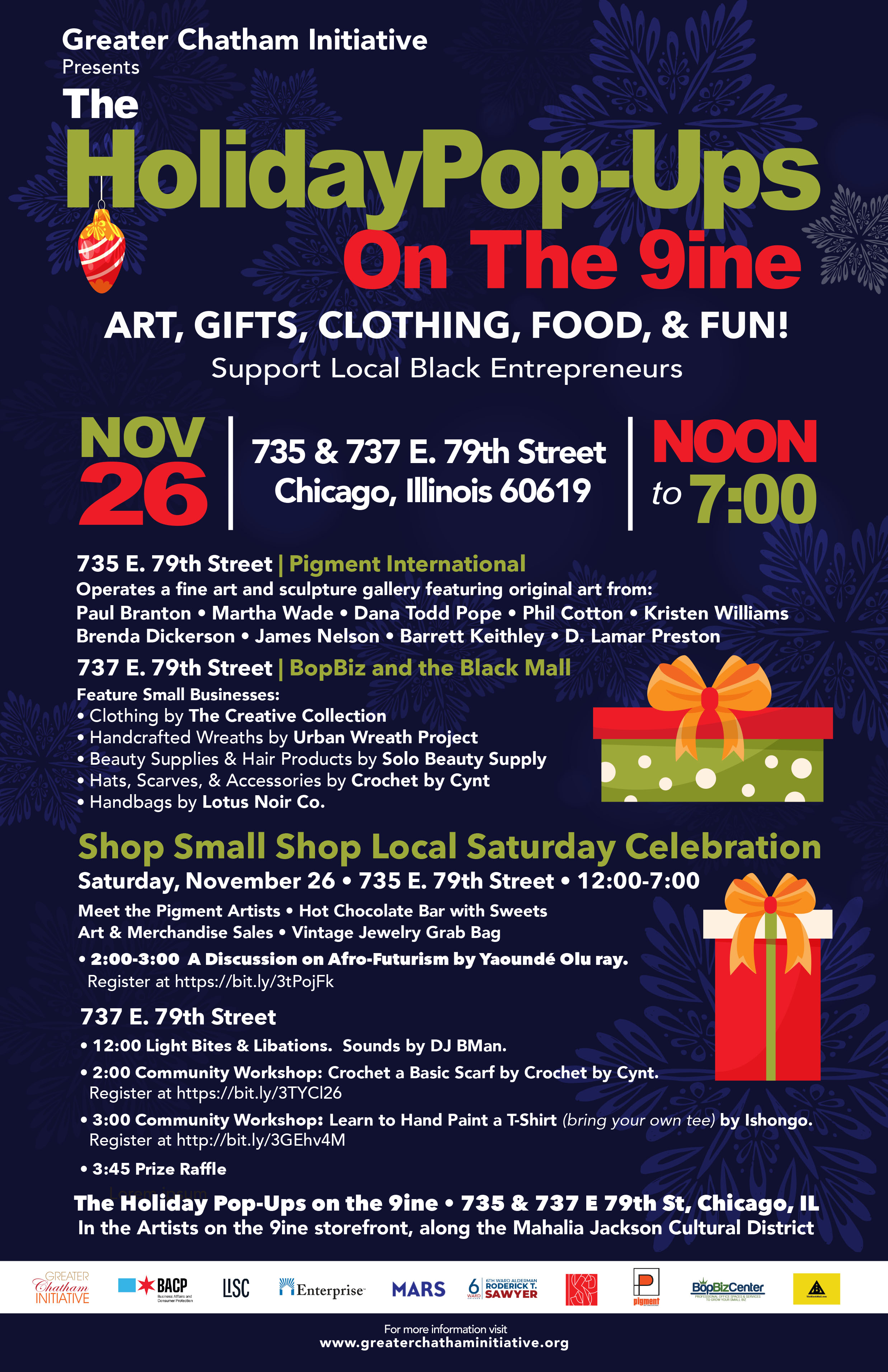 AT 735 E 79TH STREET
(Click on the picture below)
Pig-ment International
Pigment International operates a fine art and sculpture gallery featuring original art from:
Paul Branton * Martha Wade * Dana Todd Pope * Phil Cotton * Kristen Williams
Brenda Dickerson * James Nelson * Barrett Keithley* D. Lamar Preston
AT 737 E 79TH STREET
(Click on the picture below)
Black Mall
At 737 E 79th Street
BopBiz and the Black Mall feature Small Businesses:
Clothing by The Creative Collection
Handcrafted wreaths by Urban Wreath Project
Beauty supplies and hair products by Solo Beauty Supply
Hats, scarves, and accessories by Crochet by Cynt
Handbags by Lotus Noir Co.
Shop Small Shop Local Saturday Celebration
Saturday, November 26
At 735 E 79th Street, Chicago
12:00-7:00
Meet the Pigment Artists
Hot Chocolate Bar with Sweets
Art & Merchandise Sales
Vintage Jewelry Grab Bag
2:00-3:00 A Discussion on Afro-Futurism by Yaoundé Olu ray
At 737 E 79th Street, Chicago
12:00 Light bites and libations.  Sounds by DJ BMan.
2:00 Community workshop: Crochet a basic scarf by Crochet by Cynt.
3:00 Community workshop: Learn to hand paint a T-shirt (bring your own tee) by Ishongo.
3:45 Prize Raffle
Sponsors are Greater Chatham Initiative, City of Chicago Department of Business Affairs and Consumer Protection, Enterprise Foundation, LISC, Mars Wrigley, Alderman Sawyer, Kruek Sexton, Pigment International, BopBiz, and The Black Mall.