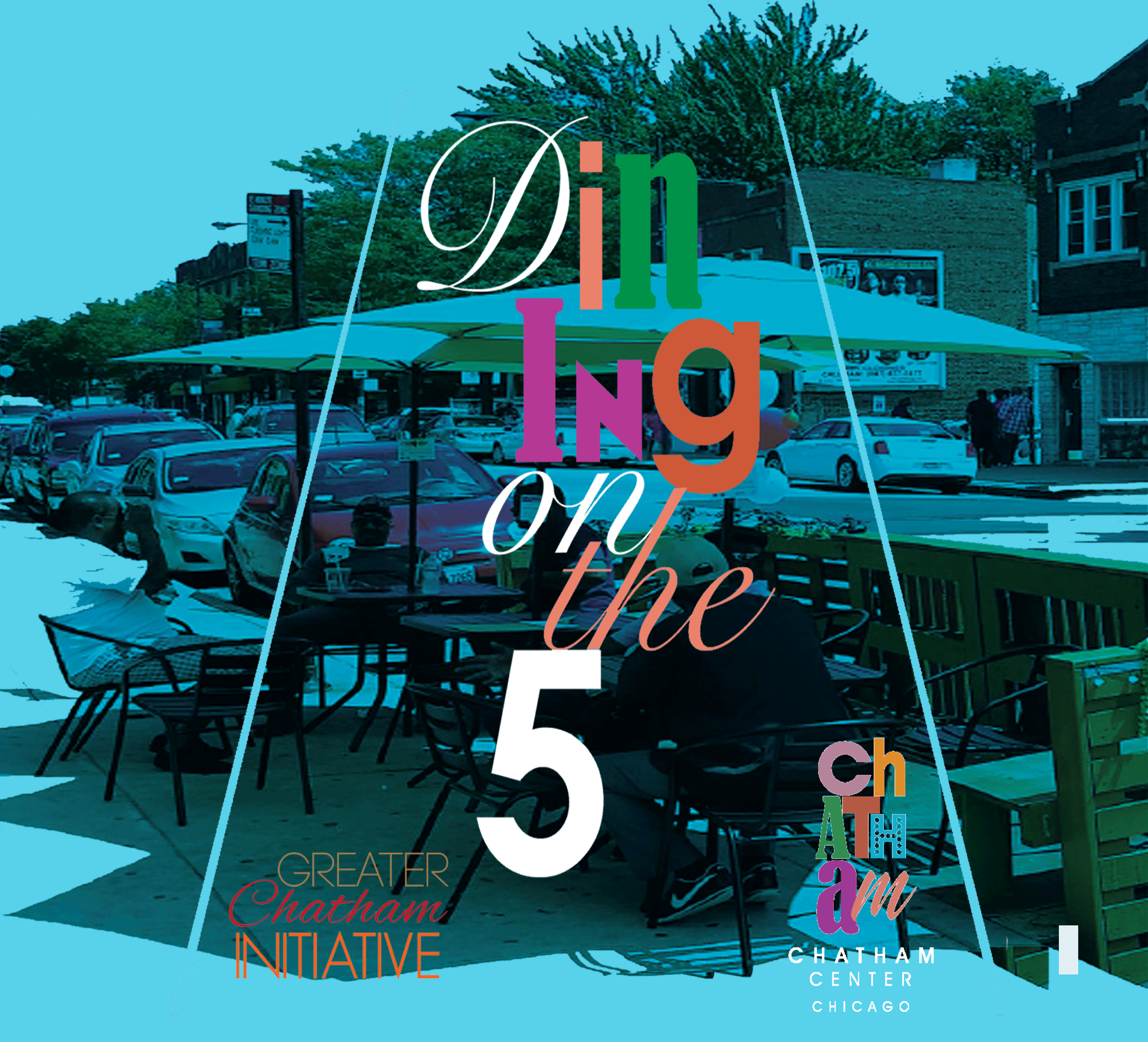 Greater Chatham Initiative, (GCI) is proud to present our 4th annual Dining on the 5. In Greater Chatham's Restaurant Row, on 75th Street, Indiana Ave. to  Cottage Grove Ave., open patio seating is available for your outdoor dining pleasure.
Dining on the 5 (75th Street's nickname is the "5"), opened Friday, June 26th, and continues through Monday, September 7th. Dining on the 5 is filled with great food and is an enjoyable outing for the entire family. Dining on the Five is in the Chatham Center Chicago Business District in the heart of "Restaurant Row" on Chicago's south 75th street (State Street to Cottage Grove Ave.)
Chatham Center Chicago is home to more than a dozen long-time family-owned and operated restaurants.  Collectively known as Restaurant Row, the 14 food businesses in Restaurant Row attract 200,000 patrons from within a 20-mile radius and employ 200 persons. The businesses along Restaurant Row include Brown Sugar Bakery, Five Loaves Eatery, Flammin Restaurant & Co., Frances Cocktail Lounge, A&S Beverages, Harold's Chicken #24, KMT Health Foods, Lem's B-B-Q, Original Soul Vegetarian, Mabe's Deli, Margarita's Pizzeria II, President's Lounge, Dunkin Donut, and others.
Come out to support our local businesses, eat local, shop local, and enjoy a good time with family and friends.  
Please check the participating business restaurants for their hours of operation. 
See you on "The 5″
Visit Chatham Center Chicago's 75th Street Restaurant Row &  Dine on the 5
Participating Businesses 
Our Partners