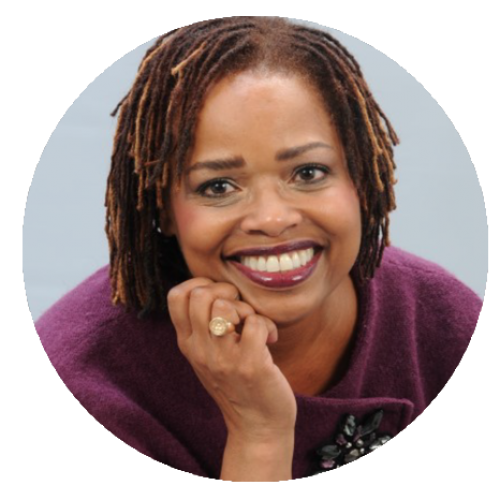 Executive Director – Nedra Sims Fears
Nedra Sims Fears is Executive Director of the Greater Chatham Initiative (GCI). Fears is an economic development expert who specializes in strategic planning, financial modeling, community development financing, and program management.  At GCI, she
created a new Chatham Center Chicago—a branded commercial retail area that has an accompanying online directory of 300 merchants and service providers
Collaborated with partners to undertake multi-prong activities that contributed to the recent uptick in Greater Chatham housing sales and prices—making Chatham a bright spot in Chicago's housing market.
In 2020 she and others are establishing

FoodLab Chicago—which will improve 25 food businesses located on Restaurant Row corridor located on 75th Street
an Arts District by starting a makers' space in collaboration with The Silver Room.

Led the completion of an economic development plan for the four neighborhoods
Secured MacArthur Foundation, Chicago Community Trust, Federal Express, Exelon Corporation, etc., funding
During the last recession she as a business development internal consultant with First Children's Finance, Fears improved the operations of 45 early care and education centers managed by universities, public school systems, and private owners. She utilized researched based curriculum and program evaluation benchmarks. Centers had gains in revenue, net income, operating reserves, and market share; decreased delinquent accounts; and/or improved educational outcomes.
Earlier in her career Fears financed $1 billion in low- and moderate-income single-family and multi-family housing for Fannie Mae, City of Chicago Department of Housing and Community Investment Corporation.
Fears is a National Committee member for Middle Neighborhoods—an entity that promotes middle neighborhoods.  She is a Harvard Loeb Fellow. Fears holds a BS from Cornell University in Interior Architecture and a MBA in finance from the Kellogg School of Management at Northwestern University. She had an ideal childhood in the Chatham community and recently purchased and rehabbed Ernie Banks former house a few blocks from her family home for her big multi-generational family. She's married with two young adult daughters who came home due to the Coronavirus (Covid-19) Pandemic.
If you would like to set up a meeting or phone call with the Executive Director, please contact Rene Thomas, at 773-644-1451, x 106 or via email at rene@greaterchathaminitiative.org.
Industrial Cluster Manager
John Handler
John works with the 2,500 businesses in the Greater Chatham area in particular promoting and growing the leading industrial clusters of Fabricated Metals, Transportation, Distribution & Logistics (TDL) and Food Processing & Packaging. John is leading our charge into Urban Manufacturing and entrepreneurial development & incubation.  His 24 years in the food and beverage sector provides him deep insight to lead our small business and restaurant corridor development initiatives.  John is the program manager for www.SoulDelivered.com
Mr Handler grew up in manufacturing first building cars at Chrysler in downtown Detroit. Then Ingrid and EKCO Housewares.  Was CEO of GB Engineering pioneering 3D technologies in product development and tool building.  Founded Truck Dispatching Innovations consulting to 100+ companies pioneering last-mile route optimization, GPS and mobile technologies.  Deep small business insight having owned and operated restaurants and coffee shops for the past 24 years.  Mr Handler has extensive international experience – 3yrs Southern Africa, twice set up factories in Mexico, sourced and supported product in China.  Mechanical Engineering degree in Advanced Manufacturing and an MBA from Harvard Business School with an organizational behavior and Industrial Strategy focus.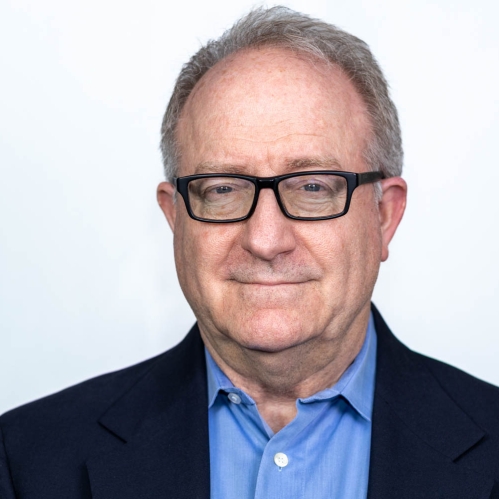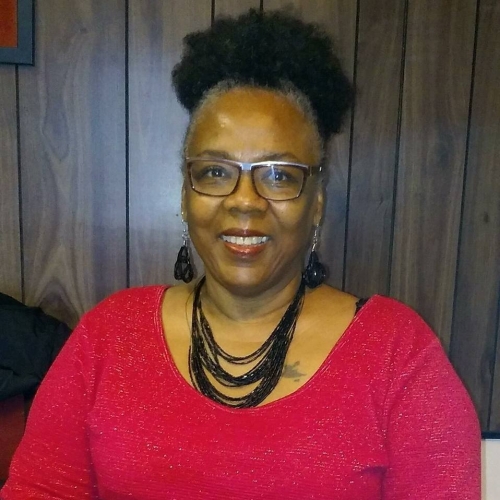 Communications Coordinator
René Thomas
As Communication Coordinator René is responsible for scheduling, coordinating and follow up for meetings and other activities at GCI.  She also coordinates outreach events for GCI's Restorative Practice Program and is the point person for GCI's Peer to Peer Program.  In addition to coordinating these important activities, René records and transcribes minutes for board, executive and committee meetings.  As a former Business Education teacher for CPS, she easily communicates, coordinates and disseminates information.  She has over 40 years of combined experience in the non-profit, corporate and educational arenas, with a B.S. in Education from Southern Illinois University.  As a life-long resident of Greater Chatham, she is excited about the Greater Chatham Initiative and her role to help Greater Chatham re-emerge as communities of opportunity and choice.
Restorative Practices Coordinator
Brenda F. Boyd
As a Restorative Justice Practitioner with more than fifteen (15) years' experience, Brenda has  cultivated relationships between school districts, community stakeholders, law enforcement, and youth focused organizations to create opportunities for community building.  She holds a Master's degree in Criminal Justice and Bachelor degree in Interdisciplinary Studies, both focusing on Restorative Justice and earned at Governors State University, an Associate degree in Paralegal Studies (ABA approved program) from South Suburban College and has multiple years of comparable work experience in Restorative Justice and Practices, Court Mediation, Contract and Business Arbitration, Conflict Resolution, and Alternative Dispute Resolution.
Brenda is a forward-thinking Restorative Justice Practitioner and Facilitator with experience working with adolescents, adults, families, and youth at-risk, particularly in traditionally under-served schools and communities in Chicago, the south suburbs and Las Vegas.  She has worked for and/or partnered with College of Southern Nevada, Clark County School District, South Suburban Community Development Corp., Chicago Bar Association's Restorative Justice Project, Illinois Balanced and Restorative Justice (IBARJ), Nevada Supreme Court's Access to Justice Commission's Eviction Mediation Program, Clark County Justice Court, and Sistahs S.T.R.O.N.G. Inc. girls mentoring.  These partnerships have allowed her the opportunities to develop and implement proactive and responsive restorative practices including circles, community and landlord/tenant mediations, peer mediation, restorative conferences, family group conferences, reentry mediations, and World Café practices that foster safe, supportive, and positive school and community cultures.
In her position as Restorative Practices Coordinator for Greater Chatham Initiative, she has implemented programs that support meaningful relationships and address the inevitable conflict and violence that happens in the community to promote public safety and violence prevention utilizing creative community engagement events such as Coffee with a Cop, Teen Talks, Skating into Peace, and Riding away from Violence (horseback riding).  Thematic movie outings such as 'Resolving Conflict with RESPECT' paired with a private screening of RESPECT, 'Healing the Grief in our Communities with Youth Empowerment' paired with a private screening of No Time to Die, and 'Family, Dreams and Perseverance' paired with a private screening of King Richard.
Brenda is continuously looking for restorative community strategies that counter people's experience of isolation and alienation by building trusting, safe environments where all participants have a voice and a role, and where our shared humanity as well as our struggles and achievements are recognized.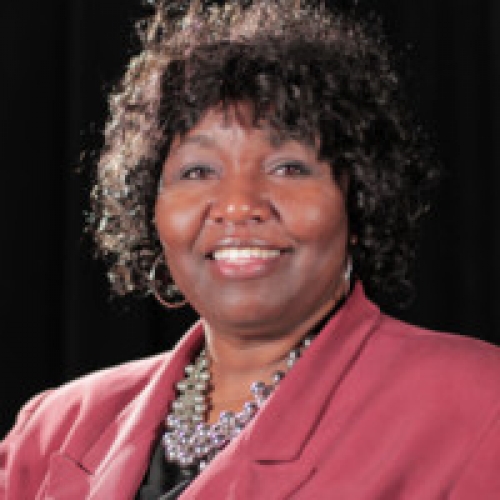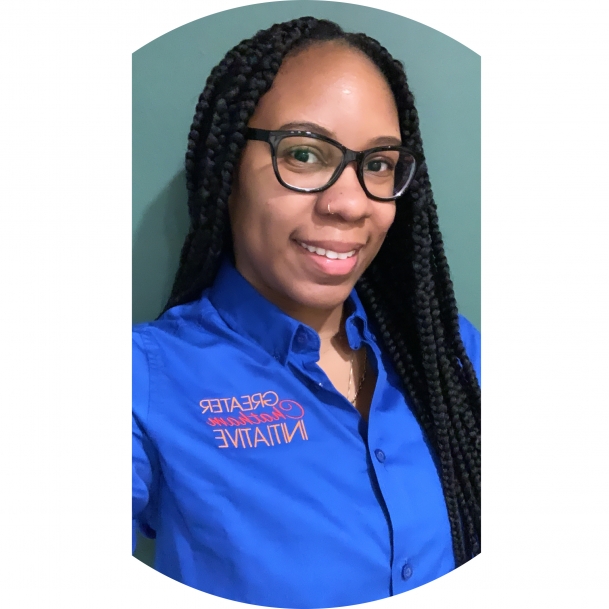 Social Media Coordinator
Melissa Parker
As the Social Media Coordinator Melissa is responsible for planning, implementing, and monitoring all of GCI's social media strategy to increase brand awareness, improve marketing efforts and increase traffic to our website. She is also the executive assistant to the Executive Director providing administrative support. Growing up in the Greater Chatham area gives her the ability to successfully connect and relate to the residents in the community through social media. Melissa has a Bachelor's degree in Journalism with a concentration in English from Southern University Carbondale and a Master's degree in Data Journalism from DePaul University. Those fields of study enhanced her skills to provide a variety of print and digital interactive multimedia components that will keep our supporters engaged and aware of the opportunities around them.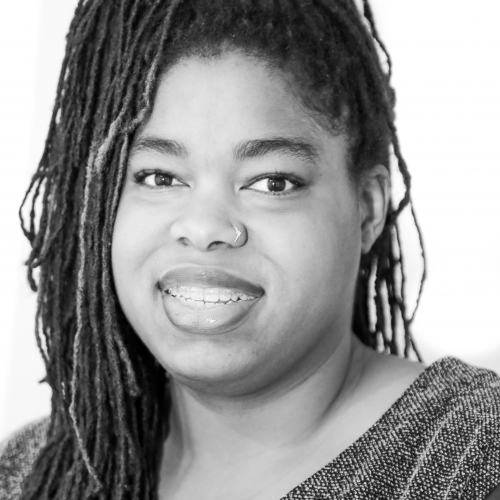 FoodLab Chicago Coordinator
Tamieka Hardy
Tamieka Hardy has always possessed a zeal for food dating back to childhood. She is known for stating how much she admired the ways meal times unite family and friends, especially during the holidays. The drive to perpetually recreate this bond drove her to pursue a career in the food industry.
Tamieka gained an understanding of the correlation between diet and health while pursuing an Associate's Degree in the Culinary Arts at Kendall College in Chicago.  This knowledge along with the desire to coordinate healthier eating habits for people in her community, a community where diet derived illnesses are prevalent, drove her to focus on dietary habits and the biological and chemical attributes associated with dietary trends.  Tamieka continued her education, attending Dominican University, earning a Bachelor of Science degree in the dual majors of Food Science and Nutrition, and Culinology®, and then a Master of Food Safety and Technology from the Illinois Institute of Technology.  Her academic experiences instilled an understanding of the functionality of foods in the diet.
Tamieka lauds a diverse career in the food industry.  She has functioned in roles of quality assurance, regulatory management, food safety oversight, research and development, ingredient applications, product commercialization and foodservice, and food writing.  She advocates implementing a well-rounded diet and healthy lifestyle choices to improve quality of life.  Tamieka achieves this by unifying experiences through her career in culinary science, food safety, and regulatory affairs to innovate and implement food innovation solutions.
In her spare time, Tamieka consults in food safety and food R & D solutions. She also enjoys gardening, outdoor activities, and creating new works as a mosaic and mixed media artist.
Housing & Land Use Coordinator
Jeremy Jacobson
As Housing & Land Use Coordinator, Jeremy is primarily responsible for the administration of the Micro Market Recovery Program (MMRP) in Chatham, in which he collaborates with the community to help build up the local real estate market and create greater opportunities for residents through the promotion of affordable, quality housing options. He also assists on a handful of other initiatives being carried out by GCI, including development of local businesses, equitable transit-oriented development (eTOD), and flood abatement.
Jeremy's background is in urban planning, graduating from the University of Illinois Chicago's Master in Urban Planning and Policy (MUPP) program with a concentration in economic development. He's particularly interested in creative strategies for revitalizing disinvested areas and expanding economic opportunity in the form of housing access and business growth. Jeremy has held a variety of positions within this realm including with the City of Chicago's Dept. of Planning & Development and the Massachusetts Dept. of Housing & Community Development.